Minneapolis IT support company Tech Guru presents "Get Publicity for Your Small Business," a Lunch and Learn event with Wendy Blomseth of the Minneapolis/St. Paul Business Journal.  Reserve your seat, in-person or online, for the June 5 event that will get your company recongized among fellow business leaders.
11:30am  Complimentary lunch and networking at Tech Guru
12:00pm – 1:00pm  Presentation by Wendy Blomseth and Ed Stych
About the Event
In this information-packed hour, Wendy Blomseth of the Minneapolis/St. Paul Business Journal will teach you:
H

ow to get your company's name in the local paper

Where to send your Press Release

What nominations are right for you

How to get your employees recognized in MSPBJ's Weekly Edition

What makes a good local story

And BONUS:  How to find new clients and maximize business development opportunities from the news
Ed Stych, formerly a local reporter and now National Special Sections Editor will share:
How you can become a contributor to our "HOW TO" site

Overview of the nationwide scope of the Business Journals

A sneak peek at a new nationwide project the Business Journals will be starting soon






About Wendy Blomseth and Ed Stych
Wendy Blomseth, Audience Development Account Executive with the Minneapolis/St. Paul Business Journal is a former solo-entrepreneur who understands what it takes to get noticed and get sales in today's competitive environment. She is passionate about helping entrepreneurs and small businesses connect to the power of the Business Journal.
Ed Stych is the National Special Sections Editor for American City Business Journals, which is the parent company of the Minneapolis/St. Paul Business Journal and 42 other business publications around the country. He assembles a daily stream of best-in-class information for entrepreneurs and top managers that appear in The Business Journals' national How-To blog. Before joining ACBJ in 2011, Stych owned and operated printing companies in Minneapolis for 17 years.
What People Are Saying
"Wendy Blomseth presented an enlightening seminar to become a Power User for the Mpls/St. Paul Business Journal. It's now my one-stop business portal to expand my client base. Wendy hit all the key areas on finding sales leads, new ideas for business development and power user tips to navigate the AM/PM Editions. I've recommended utilizing the Business Journal to colleagues after attending Wendy's seminar."
"Wendy's presentation was dynamic and informative with great ideas on business development, prospecting, networking and publicity. Her valuable insights will help my company enhance our strategic action plan with increased focus and follow through."
There are TWO ways to attend this event!
1. IN-PERSON:
Tech Guru – Grain Belt Conference Room
79 13th Ave. NE, Suite 207, Minneapolis, MN 55413
Tickets are $10.  Complimentary lunch is included.  Space is limited to 40 people.
Come meet, greet, and eat in the Tech Guru conference room.
SEE MAP BELOW FOR PARKING DETAILS.
2. LIVE ON YOUR DEVICE:
Online with link
Tickets are $10.  Can't make it to the Tech Guru offices?  Watch from the comfort of your office or home.  Register now, and we'll send you a link before the event to get you convenient access to view live via the web.
PARKING INFO, if you're attending in-person: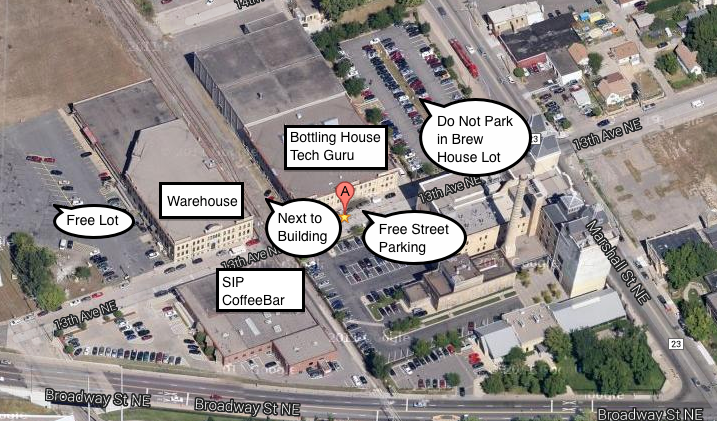 Dan Moshe helps business owners in the Minneapolis area with all things tech, and is the CEO of the Caring IT company Tech Guru.  He cares about your business as much as you do!